CAPE VERNACULAR STYLE ARCHITECTURE
The Cape vernacular architecture style is a more informal version of the old Cape Dutch style. The style has been revived in with many houses on Wine Estates now in the Cape vernacular architectural style. The vernacular style is a charming country style well suited to residential architecture, with pitched roofs, fascias and small regularly spaced windows. The walls can be painted any colour and need not be white like the old Cape Dutch style.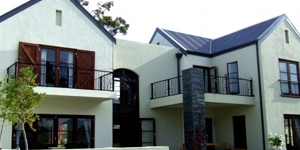 2010 HOUSE WOOD
House Wood
was designed By Beverley Hui architects for Schonenberg Estate in
Somerset West, Cape Town
in 2010. Typical of the
Cape Vernacular style
, it was titled "House of the year" in Schonenberg Estate in 2010. The central courtyard makes the
house plan unique
, and is surrounded by pergolas and vines. The sparkling pool is also designed to be in the centre of the courtyard , with a
modern style
passage linking the bar to the rest of the house. This outdoor room was designed to look like a
wine cellar
of a
farmhouse
while the passage is finished in a
modern architectural style
with large shear glass windows adjacent to the pool. This juxtaposition of
modern
and country
style architecture
is subtly done and adds to this
unique residential
building.
For more designs in Cape Vernacular Architecture style see
ARCHITECTCAPETOWN
which contains many good examples.
Last updated 17 Nov 2017
HELDERBERG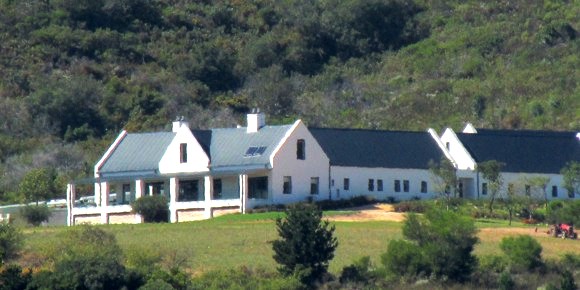 A beautiful relaxed home in a T-shape, the covered stoep provides a shady place to enjoy the views.
STELLENBOSCH FARMHOUSE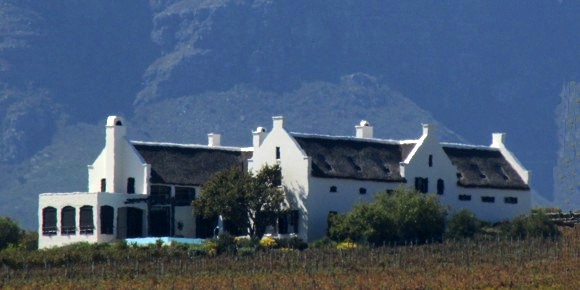 A more traditional side of the style almost historic Cape Dutch, this farm house was photographed on the slopes of Stellenbosch mountain. See
ARCHITECTCAPETOWN
for more examples of Cape Dutch style houses .
SCHONENEBURG ESTATE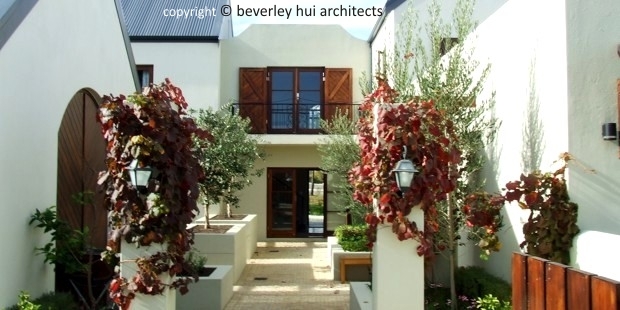 Pergolas encircle the front courtyard, and softening vines grow over them that change colours with the seasons.
LA MOTTE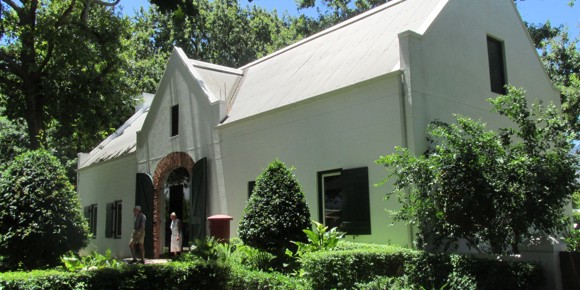 The Cape Vernacular style is characterised by clipped eaves, fascias and vertical windows. The roof is made of chromadek, metal roofin while stone elements, shutters and double volume windows were added appeal to this
residential
building. A stunning example of the style can be found at La Motte where the restaurant and tourist facility was designed to compliment the original farm house. It was designed by Johann Malherbe based in Paarl.
DE ZALZE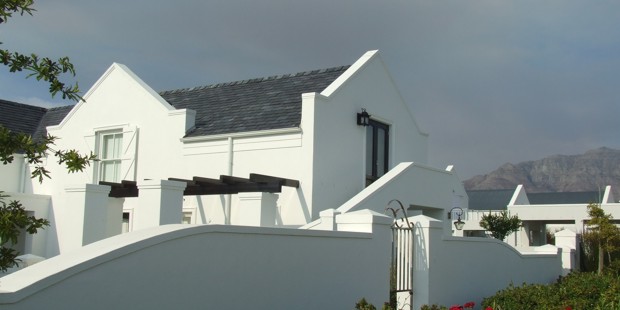 A home designed with outside stair leading to the loft on the end-gable. For Cape Town architects currently designing in the style see
ARCHITECTCAPETOWN
web reference.