MODERN ARCHITECTURE STYLE
The Modern Architecture Style is characterised by large windows, architectural beams and cantilevered elements which give the impression that the residential building is defying gravity. The modern style captures a feeling of strength, freedom and ingenuity. We have designed a number of modern farmhouses and other residential buildings, where modern architecture is juxtaposed with country life. For more designs in the modern style see ARCHITECTCAPETOWN which features many examples.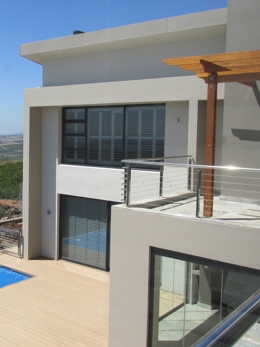 2013 REDITUS FARMHOUSE
Designed by Beverley Hui Architects this design juxtoposes modern architecture with country life. The homestead is situated on an olive farm, with views of the Cape Town and Stellenbosch. Corner windows with cantilevered beams over, and contrasting massing elements add interest to the modern appeal of house design. The interior is fitted with the best in luxury finishes, including a combination of bamboo and marble floors. This residential building accommodates a wine cellar in the stone-clad basement, while a deck and rim-flow pool are situated above. The roof is almost flat, exentuating the horizontal architectural elements of the home. For more about this design by cape town architect Beverley Hui see
ARCHITECTCAPETOWN
which has more photos of the home.
Last updated 17 Nov 2017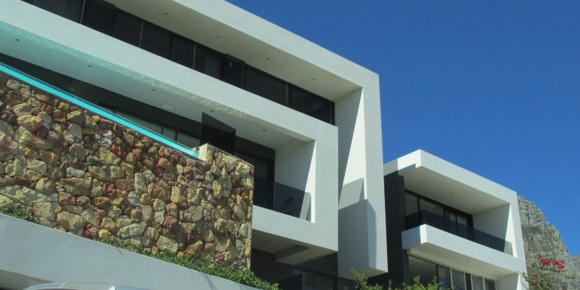 BOLD BEAMS
By painting the beams white and giving them unique shapes like L and U-shapes, a dance of modernity is created. Seen in Camps bay by unidentified architect.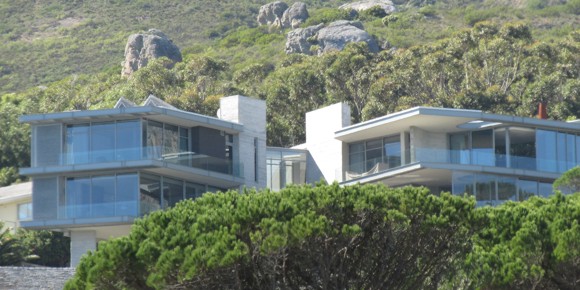 SUBTLE IN STEEL
This tasteful contemporary home was also seen along the slopes of Lions Head. A steel frame structure with glass inful is modernity at its best.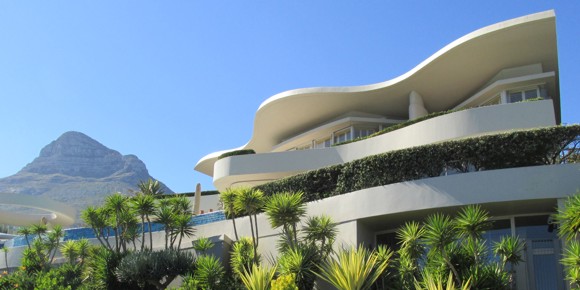 DISTORTED BOX
The modern style often plays on the idea that the borign old box should be warped and distorted. This very successful example was photographed in Camps Bay of Cape Town. Contact us if you know who designed it, we would love to add a credit.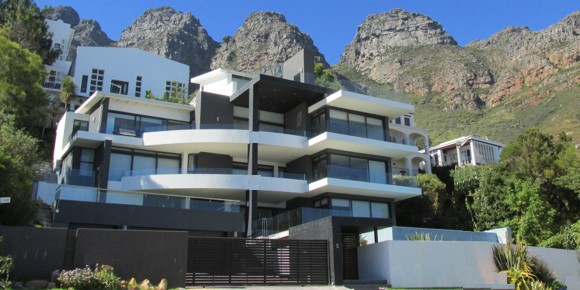 MULTILAYERS OF BALCONIES
By keeping the balustrades of frameless glass, each layer of floor slab makes a statement on on top of the other. Contact us if you know who the architect is.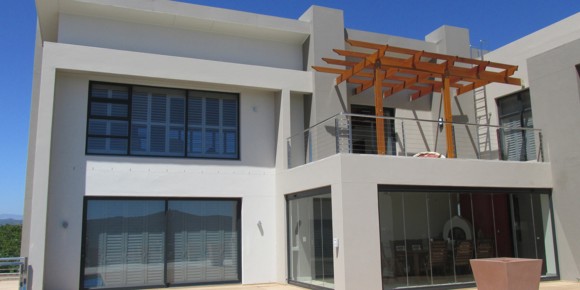 TINTED GLASS
Tinted glass has been used by this architect to achieve great views without over-heating the house. Gutters and other clutter have been carefully concealed. A modern home by Beverley Hui Architects
ARCHITECTCAPETOWN
MORE EXAMPLES OF MODERN ARCHITECTURE
THE GLASS BOX PASSAGE
A modern house with the best possible views of the surrounding Stellenbosch wine farms. The windows have been designed with solar glass, to prevent heat gain, while enjoying the east and west facing mountain views. Designed by modern architect Beverley Hui see
ARCHITECTCAPETOWN
for more information.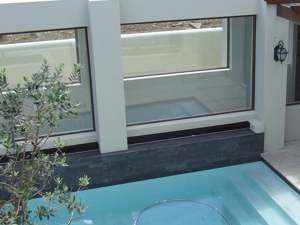 THE GLASS BOX PASSAGE
CAMPS BAY EXAMPLE


By creating solid masses with small slits between this contemporary design has taken things to the next level. Seen around Camps Bay by unknown architect.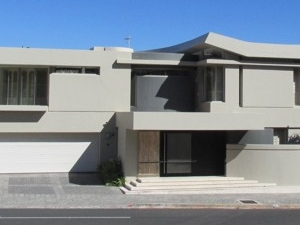 CAMPS BAY EXAMPLE
PITCHED ROOF MODERN


Contemporary style need not always have a flat roof as can be seen from this Modernised Cape Dutch house designed by Beverley Hui Architects.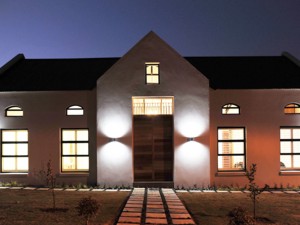 PTICHED ROOF MODERN