DESIGNS BY THE ARCHITECT IN STELLENBOSCH
STELLENBOSCH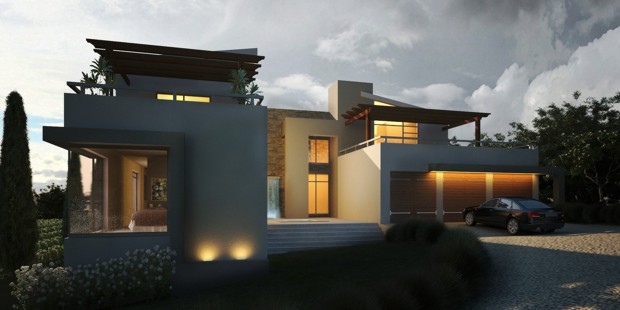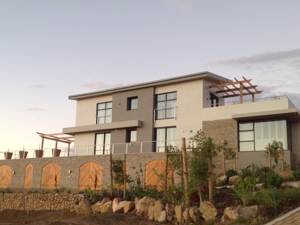 HOUSE IN THE STELLENBOSCH VINEYARDS

This Modern Farmhouse has been named "House Reditus" and was designed for a small wine farm, just outside of Stellenbosch in Devon Valley area. The client wanted to take full advantage of the near 360 degree views of the surrounding mountains and Cape Town. Expansive windows were sheltered by horizontal overhanges, which add to the modern character of the home. Solar glass was used to minimize the energy consumption of the house, especially since the home needed to be designed for views facing East and West.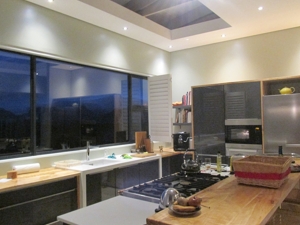 INTERIOR ARCHITECTURE OF THE KITCHEN

The interior of the home was designed to be fuly integrated with modern exterior aethetic. The furniture was selected by the client and includes an excletic mix with some nostalgic furniture items. A long narrow window above the kitchen counter frames the views of the Simonsberg mountain, in all its changing seasons.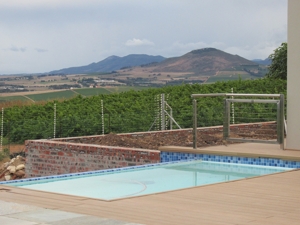 MODERN POOL DESIGN FOR THE FARMHOUSE

Our firm has submitted a number of house plans in the Stellebosch municipality and is familiar with the ever changing by laws and energy regulations that architects now need to conform to. Whether you have purchased a wine farm on the slopes of Simonsberg Mountain, or a plot in an security Estate, Beverley Hui architects has 10 years of experience designing and approving building plans for this region of South Africa.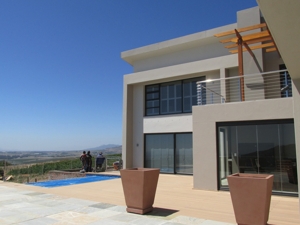 STELLENBOSCH ARCHITECTS HOUSE DESIGN

As Stellenbosch architects we have designed a number of luxurious Modern Homes on Estates and Farms in the wineland region of Cape Town, South Africa. Take your cue from the Cape Vernacular architecture, while keeping the interior modern and light. This is the lifestyle that clients look for in their house designs in this town of that is constantly reinventing itself.